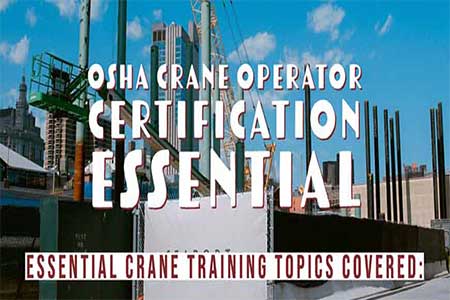 A recognized OSHA crane operator certification is essential in the construction field.
Does the construction industry require certification for crane operators?
It is necessary, without a doubt. Crane operators must have certification for their type of crane thats being operated. For instance, All Purpose Crane Training is nationally recognized training and certifying school. All businesses must evaluate crane operators in compliance with OSHA standards and guidelines.
The Most Crucial Crane Training Topics
In the crucial crane training and certification course, OSHA crane operator topics are covered. Truck-mounted, rough terrain, and crawler cranes are common varieties of crane. There may be a number of important crane training topics taught.
General requirements
Crane inspection
Operator certification
Signal Requirements
Understanding load charts
Common electrical hazards
Rigging requirements
Stability and ground conditions
and more.
How to become a certified crane operator?
Becoming certified as a crane operator through an apprenticeship program is one way to get your foot in the door. Depending on the company you work for and how interested you are in training, your odds of operating a crane may vary. Programs range in length from one to three years and include classroom instruction, professional development activities, and a certification exam at the end.
Workers are quickly put on the right path by our mobile crane operator training program. Learners in our seminars receive in-depth instruction that equips them with knowledge and skills. You could qualify as a crane operator with operator training that clarifies each of the themes. You can work in positions where OSHA and employers require certification.
In California, operators of overhead and mobile cranes are required to obtain certification before using a crane at work. Individuals who are interested in working in the construction industry should consider obtaining the necessary certifications and paperwork.
According to 8 CCR 5006.1 and 1618.1, a worker in California must complete the following examinations in order to be certified to operate cranes:
a medical evaluation, which must be carried out by a doctor and adhere to standards set by the American Society of Mechanical Engineers or the US Department of Transportation. A reliable laboratory's assessment of substance abuse.
a written test that was developed, validated, and used in accordance with the Standards for Educational and Psychological Testing, which were released by the Joint Committee of the American Educational Research Association, the American Psychological Association, and the National Council on Measurement in Education.
A hands-on examination that demonstrates expertise in operating a certain type of crane, including proper shut down procedures, maneuvering skills, and the use of load chart information.
In order to provide a safe working environment, crane operators must be certified. Crane operator certifications are essential indicators of an operator's competence, knowledge, and experience. Our certification procedure is thorough and demanding, requiring operators to obtain the knowledge that's essential for safety procedures, rigging, operating methods, and other relevant safety laws. Regularly passing crane certification exams measures operator proficiency in these areas allowing the need to recertify crane operators.
In the event of an accident on the job site, having qualified crane operators lowers the risk of liability for employers. Companies can have more confidence that all safety procedures were followed at the time of the incident by making sure all crane operators are appropriately trained and qualified. This could be the deciding factor in any litigation or insurance claim relating to a crane operator accident.
Additionally, since trained crane operators are required to operate them in accordance with a particular set of rules, having them around contributes to the culture of safety generally around cranes. As a result, there are fewer workplace accidents caused by employee negligence or human mistake because they have gotten the necessary training and know what is expected of them when operating cranes.
Ultimately, the crane business needs certified crane operators because they are to provide a secure working environment for all parties involved and because they can effectively shield employers from expensive lawsuits or insurance claims resulting from avoidable mishaps.
Crane Training and Benefits
You'll receive benefits right away for finishing your crane training. The benefits of being a certified crane operator in the crane industry is just the beginning.
Any crane operator must complete crane training in order to protect persons using and around cranes. It teaches operators how to handle the machinery safely and utilize it to its fullest potential in addition to assisting with equipment familiarization.
Proper crane training has numerous benefits for both businesses and operators. Operators can better grasp the various kinds of cranes that are available as well as how to use each model safely and effectively by taking part in training sessions.
This involves becoming familiar with loading techniques, avoiding obstacles, and other safety measures in addition to learning how to lift goods with a crane effectively. After completing crane training, operators may operate their equipment with greater assurance and accuracy, which lowers the possibility of accidents or damage to people or property.
Employers can increase production by investing in crane operator training while lowering the risk connected to inappropriate or unsafe machinery operations. Ensuring that operators utilize the equipment correctly and adhere to safe practices, it can also aid in maintaining operations' efficiency and smoothness.
Also, having trained people on staff displays an employer's dedication to safety and can provide credibility when bidding for contracts or projects that require the use of heavy gear.
Last but not least, crane operators have a variety of certification alternatives at their disposal to prove their skills and expertise in safely and effectively operating cranes. It isn't difficult to locate reputable training courses or instructors in your area who can help you earn a crane operation certification.
Many universities also offer online crane courses or distance learning programs for those who want to specialize in this field, and community colleges may also offer programs where students can learn how to operate cranes safely while being supervised by an expert instructor.
Get Training Courses
Discover the foundations and how to become a crane operator now. To determine what training course is right for your needs, contact us toll-free (888) 501-1355, or contact us for prices on different courses or just recertification.